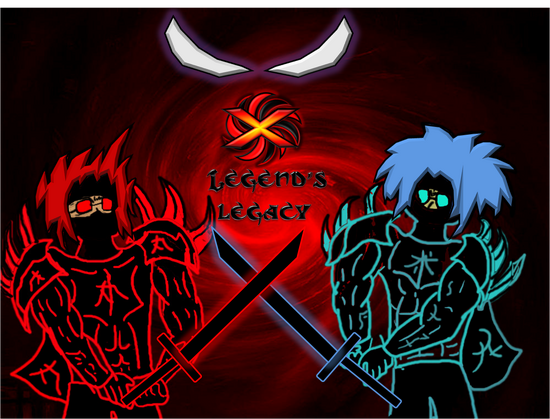 A Legend's Legacy is a fantasy, first-person MMORPG, set in the game-specific universe, known as the planet of Outhria.
A Legend's Legacy

Release Date

October 26, 2010

Current Version

1.2.1

Rating

14+ - 18+

Made By

Nik and the R.B.
It is developed through an unknown company headed by two people, known only as Nick Shadius, and The R.B. It contains three planned expansions, The War Reincarnated, Wrath of Grimbane, and The World's Fall. (Most likely planned)
As of 2010-2011, the game has spanned other media, such as a planned series of comics, a trading card game, guides, and even collections of lore and content.
A simple keyboard one that is used to begin things easily, which then rapidly evolves into a higher sense of gameplay where you'll want more for your character.
Systems such as trading, auctioning, bargaining and selling, in-game mail and even group involvement.
All servers are Role-Playing, Player Versus Player, and Public Testing.
2 Factions: The Brotherhood , and The Scourge
18 Different Races, 9 per faction
13 Different Classes to choose from, all with epic abilities
22 Different Skills, all tough and rewarding to Master
An epic talent system, designed to master your character's abilities, always in different ways!
There is an event for almost every holiday around the globe, such as St. Patty's Beerfest, or The Hallowed Night.
The game covers a host of rarities that fit on lengths to acquire and scarcity.
Allow groups of teammates to assist in quests, such as toppling Elite enemies
The raid system from A Legend's Legacy is different from any other.
10 and 25 man, with two difficulties, each with different rewards
Hardcore difficulty?
List of bosses with new ways of fighting
The Raid Skulls, the seven skulls which add multipliers to wealth and score
Known as Vanilla, but more necessarily going to be the same with big major and almighty sized patches.
See: A Legend's Legacy: The War Reincarnated
A sequel was revealed on April 2012.
Community content is available under
CC-BY-SA
unless otherwise noted.