Welcome to The Legend's Legacy!
Welcome to A Legend's Legacy Wiki!

A game that spans more than years of enjoyment, the game is full of content you don't want to miss!
Current Version: 5.5.1
Public Test Realm: 5.5.1.1
Notes:
BIG ANNOUNCEMENT, COMING AUGUST 2019! SEE LL's NEXT EXPANSION (or maybe later, idk)
Other Links:
Check out LL's card game, the Majesty: Legends of Outhria franchise! Link to the wiki
Administrator Blogs:
Shadius: The Word
The R.B.: Fluff and Drivel
Portals

Visit the respective Patch Portals for quick catches on things to come!
Each Portal will lead you to a page that contains everything included in the patch, including various bug fixes, mini-patches, bosses, items, and even some guides.
Be sure to check them out, they contain a wealth of knowledge.
Around the Site
Welcome to the Wiki.
Here we follow an "epic" editing business. Only 5 members exist.
To see recent changes, check the Wiki Updates.
You are welcome to have your say on the forums. Please go here: The Forum.
WE ARE LOOKING FOR IDEAS! Visit this page!
To see current and upcoming patches... visit here .
A Legend's Legacy Feed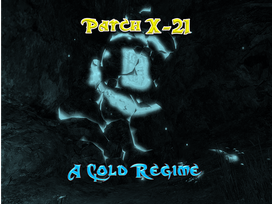 Current Patch:
Patch X-21: A Cold Regime
With the Reborn Maelstrom War ceasing, the results of the Great Turnback take even more considerable effect as Grimbane resurfaces. But another obstacle remains in the way that could escalate into something worse. Salmoneo Eus and his regime of Glaecings await an offense from the Revenge's Front comprised of the White Scarves and Deathpool Legion.
Blood will be drawn, and defeat will be bitter. Who will triumph?
Content
Main News Articles
This is the news retrieved from the server.
Featured Article
The Greg: A blast from the past! A strange boss with a strange name! valued for his rare axe!

A Legend's Legacy News
Patch 3.3.1 is now available!
This patch includes the official release of X-23 and all related features, including the new uber dungeon.
Patch 3.3.1 has arrived!
The third patch for Rise of Grimbane has arrived!
We're Gonna Rock and Roll!
It's about time another majestic item hit the servers, so why not go and try and land yourself a chopper, designed by Kalgerith, built by Argyn, brought to life by Maljuris, and test driven by you? Go and claim yourselves a
[Kalgerith's Majestic Death Chopper]

LegendsCon II Announced!
In 2012, LegendsCon will be held again for final installments on LL's second expansion. After TWR is done, of course. "TWR hasn't even started yet. says a fan. You don't say! Nah, we're kidding. But as such, tickets will be available for pre-ordering!

TWR exclusive companion name in debate
We need your ideas on what to name your new companion for pre-ordering TWR. Don't worry, if you didn't pre-order TWR, we will have a quest available for all players that can earn you it!
New Dragon Mount, Hotfixes, and the FAQ Section
We have three new things for you today. First, bug fixes. Yes, they are necessary, especially to fix some trash mob bugs in Ubers. Second, we have the FAQ section for people who want to ask us stuff! Third, we have a new mount, accessible from killing the

Golden Destroyer in the Dunes of Granidor. It's one of it's small kind, good luck earning the
[Reins of the Golden Destroyer] as it's pretty sick, and scarce at it's best.
More news.
And On My End IX

You won't be finding this stuff in a university class...

Nick talks about everybody's favourite aspect of gaming; stats!

Going into great detail, the stats of many raid sets and gear is examined and explained.
Well Well Well 22

The R.B. goes indepth about the design of the next expansion...

The R.B. tells all in this post, from a sight of new content, to an overhaul of his design philosophy.

Great changes are coming to LL. A change in design philosophy means a change in mechanics and game design.
Of course, you can go here too.
Around the Wiki
Latest Patch Notes:
Patch 3.3: The release of Patch X-23!
3.3.1: Bug and hot-fixes.

Postbags from the Gods
Visit this page for all Postbags from the Gods.
You may also read the FAQ asking the admins.​

Celebrative Articles
Visit here for every 100th, and 1,000th article.

Others

Did you know? Facts you may or may NOT have known about LL!
Tylious Dawnbane has died twice and come close a third time?
That two godly weapons exist with 381 ATK?
That Alkindar Blackclaw has 768,000,000 mana, meaning it would take over a week to make him lose all of it?
Shifujiro No Sai is the oldest living Sai Dynasty member?
Ancieus Uredos and Aegis Uredos are ancestors of Kalgerith, Argyn, and Maljuris Salumos?
The Epic! Hitlist The best items according to trends in LL. Every month!
Current: [Dream Twisted K'chonal] A battle axe of great strength, a twisted version of Tylious' weapon of choice. Whispers of Tylious' madness can be heard while in combat and wielding this axe.
Featured Articles
Visit the page for featured articles!
We'll have more coming!