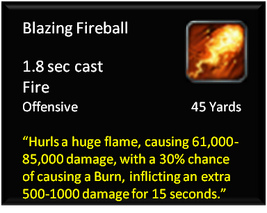 Blazing Fireball is a Fire spell utilized by Kathryn of the Violet Crusade. It deals direct damage to the foe with the most aggro, and hit harder on targets who are Frozen. It has a relatively short cast time, and she uses it quite often after her spell Chilled Shot .
Blazing Fireball

Usable By

Kathryn, Archmage of the Violet Crusade

Type

Offensive

Element

Fire

Cooldown

None

Improvement Talents

--

Ranks

--

Max Hit

85,000
Tips and Tactics
Edit
It is a spell similar to Archmages or Frost-Fire Mages, as well as Fire-Shadow Warlocks or Archlocks.
It hits in the higher range if the target is frozen.
It can cause a burn, doing up to 500-1000 for 15 seconds. This can be a total of 15,000 damage + whatever was cast.
Using an aura shield will make it hit in the 60,000's.
This spell cannot be learnt, but can be put into your book of knowledge.