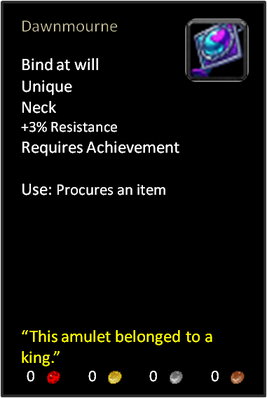 This amulet is made from a stone we hid from Tylious. We would only wear it when we can celebrate our victory. - Fordron (From the Trading Card Game)
Dawnmourne is an exclusive item released with Patch X-1. It is one of the only exclusive neck items.
It says four things on it, all in Latin.
Cruor "Blood"
Anima "Soul"
Virus "Poison"
Metru "Demise"
Effects
[
]
Bonus to

[Tylious' Legacy]

Allows creation of

[Shard of the Demise Legacy]

with an

[Jar of Polcro]
Source
[
]
This requires completing the Remaking Polcro Questline, and, technically (The Mourne of Dawn) which is rewarded upon completing.